advertise
WHY CHOOSE MAGAZINES?
"Magazine advertising (is) approximately 40% more effective than television advertising and approximately 60% more effective than radio advertising." Source: Magazine Publishers of America, 2001.
"Consumers cite magazines as the medium most likely to motivate them to respond to any ad, more than TV, the Internet, newspapers and radio." Source: MagNet Surveys, 2000-01
DEMOGRAPHICS
In two surveys of Huntington Quarterly's readers, studies conducted by Marshall University's Center for Business & Economic Research and the Circulation Verification Council found the following demographic information:
Average Household Income = $117,411
63%
Frequently buy products from ads seen in this magazine
38%
Are retired
52%
Are female, 48% are male.
84%
Have Internet access
99%
Are registered voters
Average Age = 56
77%
Read magazine cover-to-cover.
87%
Have investment portfolio. (Average value: $637,698)
90%
Dine out at least once per week.
Average Home Value = $312,673
69%
Of readers are married.
80%
Of magazines have a shelf-life of at least three months.
55%
Vacation out of state.
This demographic analysis was conducted by The Small Business Institute at Marshall University in conjunction with the U.S. Small Business Administration (Contract # SBA-5165-90).
DISTRIBUTION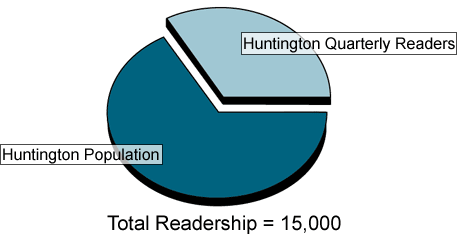 The Huntington Quarterly Magazine is published four times a year (Winter, Spring, Summer, Autumn) by H.Q. Publishing Co., Huntington, West Virginia. More than 5,000 copies are printed each quarter. Research indicates that the Huntington Quarterly is read by three different consumers.* The City of Huntington population is approximately 60,000. Therefore, the magazine has an estimated audience of 15,000 readers, or 1/4 of the local market. *MU Center for Business & Economic Research
"Everybody wants to advertise in radio and television, but the smart advertiser understands the intrinsic value of print as an advertising delivery vehicle. If used properly, no other medium can deliver the message and the customer with such good effect." -Alf Nucifora, a national authority on advertising and marketing issues for small business.
SPEC SHEET
Ad Rates

Cover Rates

Covers 2 and 3
$2068
Cover 4
$2299

Black and White

Full Color

Full Page
$1109
$1474
2/3 Page
$935
$1287
1/2 Page
$748
$1100
1/3 page
$600
$941
1/6 Page
$336
$693
2 Page
$2024
$2635
Ad Deadlines

Issue

Deadline

Publication

Spring
February 1
March 1
Summer
May 1
June 1
Autumn
August 1
September 1
Winter
November 1
December 1
Ad Requirements
All ads must be submitted on CD or via email. Huntington Quarterly will accept both PC and Macintosh formats as well as most disk storage devices. All artwork must be at least 300dpi and converted to CMYK. Include all support files and fonts with ad.
Ad Dimensions
Full Page
8-1/2" x 10-7/8" (+1/8" bleed)
Full Page Bleed
8-3/4 x 11-1/8"
2/3 Page
4-3/4" x 9-3/4"
1/2 Page
7-1/4" x 4-3/4"
1/3 Page Vertical
2-1/4" x 9-3/4"
1/3 Page Square
4-3/4" x 4-3/4"
1/6 Page Vertical
2-1/4" x 4-3/4"
1/6 Page Horizontal
4-3/4" x 2-1/4"
Contract Discounts
Advertisers can sign a 2 issue contract and receive a 5% discount or a 4 issue contract and receive a 10% discount. Non-profit organizations receive a 30% discount.
SAMPLE SIZES
Two-Page Spread (Full Page in Blue)
2/3 Page
1/2 Page
1/3 Page Vertical
1/3 Page Square
1/6 Page Vertical
1/6 Page Horizontal